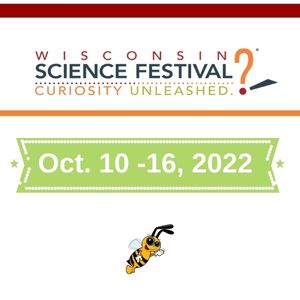 The Wisconsin Science Festival's statewide celebration is back this year, and for the first time features a full week of in-person and virtual activities from October 10 – 16. Join the festivities with more than 300 events in communities throughout the state. Most events are free, including hands-on activities, talks with scientists and authors, films, performances, nature hikes, take-home science kits and so much more.
This year, both Governor Tony Evers and Superintendent Jill Underly of the Wisconsin Department of Public Instruction have issued proclamations that officially declare October 10 – 16 Wisconsin Science Week to commend the importance of Wisconsin citizens engaging with science in all aspects of their lives.
"The festival creates a unique gathering of events that celebrate science, art and technology across our entire state, highlighting the vast amount of expertise and curiosity we can be proud of as Wisconsinites," says Sam Mulrooney, incoming director of the 2023 festival.
Returning for its second year, the Science in a Bag Kit is a very popular activity. Also, for the second year in a row, the Sherman & Ruth Weiss Community Library is proud to be an official Science in a Bag pick-up location. These STEM kits feature activities appropriate for ages K-12. They highlight science and research, and research happening specifically in Wisconsin. For more details about the kits, please visit: https://www.wisconsinsciencefest.org/science-in-a-bag/. They will be available at the library while supplies last.
In addition to handing out the Science in a Bag Kits, the library will hold its LEGO Club meeting on Tuesday, October 11 from 4 to 6 pm. The library encourages children from ages 3 to 18 to attend. Children under the age of 12 should be accompanied by an adult. Attendees will be given a challenge to complete in 40 minutes. Completed builds will be in a library display case after the build until the week before the November LEGO Night (November 8, 2022, at 6pm.).
Everyone can also participate in the Beesly the Bee scavenger hunt inside the library during that week. Turn in the form to receive a Beesly sticker. Starting that week, we will also feature 12 STEM kits received from a grant from IEEE on display and available for checkout.
"Bee" sure to buzz by the library during the month of October for all other activities going on, including the following: