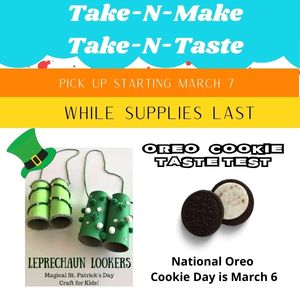 Starting March 7th we've got two kits for you to pick up! A Take-N-Make – Leprechaun Lookers and a Take-N-Taste – Oreo Cookies! While supplies last!
Pick up your Take-N-Make kit (limit of one per child) and make your very own Leprechaun Looker just in time for St. Patrick's Day or maybe to help you find the Library Leprechauns!
Do you enjoy Oreo® cookies? If so, you're in luck because March 6 is National Oreo Cookie Day. To celebrate, the library will give you a chance to try six different flavors of Oreo cookies, identify the flavors and rank them. Also, tell us your favorite book based on baking/cookies/food/eating. Stop by the library March 7 – 12, 2022 during regular library hours to pick up a Take-N-Taste Kit. There's a limit of one kit per family while supplies last. Return the form with your rankings before 5 pm on Monday, March 14, 2022, by dropping the form off at the library or by emailing it to hlibrary@hayward.wislib.org. Patrons who return the forms will be placed in a drawing for a free box of Oreo cookies! Results of the ranking will be available on the library's website. Get a big glass of milk after you stop at the library so you can start tasting!