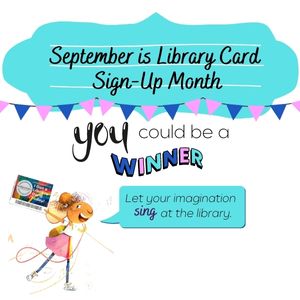 This September the Sherman & Ruth Weiss Community Library, as part of the Northern Library Network (NWLN), is joining the American Library Association (ALA) and libraries nationwide for Library Card Sign-Up Month. This is a time to remind parents, caregivers, students and everyone that a library card is the first step towards academic achievement and lifelong learning, and it lets your imagination sing!
Tony Award-winning performer, actress, singer-songwriter, and philanthropist Idina Menzel and her sister, author and educator Cara Mentzel, are this year's honorary chairs of Library Card Sign-Up Month 2022.
As honorary chairs, Idina and Cara remind everyone that one of the best places to find your voice is at the library. And during Library Card Sign-Up Month, they want you to explore all the library has to offer, like new children's books, access to technology, and educational programming. You can join Idina and Cara, the American Library Association, and libraries nationwide in singing the praises of a library card. Also in September, the sisters' debut picture book, Loud Mouse, about a little mouse named Dee who loves to sing very loudly, will be released by Disney Hyperion.
During September, the Weiss Community Library, in partnership with the other NWLN libraries, will host several activities, including entry into a raffle drawing for three different people to win a $50 gift card (one person in each of three categories)
1. New library cardholders (physical card)
2. New library cardholders (self-registered online)
3. Patrons who share their library story (https://tinyurl.com/bddzbp4k)
Here are the Weiss Community library's September activities:
ACTIVITIES FOR THE MONTH
Reading Challenge – NASA's Artemis Project: To the Moon, Mars, and Beyond
September 1 – October 15, 2022
Ages 0 – 100+
New CHARAC Art Exhibit
September 2 – December 2022
Space Boggle Board
September 6 – October 3, 2022
New StoryWalk® Book
September 6 – October 3, 2022
"Over and Under the Pond" by Kate Messner with art by Christopher Silas Neal
Spaced Themed Photo Cut-Out Board
September 6 – October 15, 2022
I Spy – Space
September 6 – October 3, 2022
Take-N-Make Kit
September 12, 2022 – while supplies last
Rocket – for Children
LEGO Club
September 13, 2022 @6 pm
1,000 Books Before Kindergarten
Ongoing – Sign up next time you and your child are in the library.
Also, a library card is the most powerful tool in your wallet – show it off! The American Library Association (ALA) has a promotion for you to share a photo of yourself with your library card for the chance to win $100! Post to Instagram or Twitter using the hashtag #GetLibraryCarded. Entries can also be submitted by posting as a comment or wall post on the I Love Libraries Facebook page. Be sure not to reveal any personal information on your library card and don't forget to tag your library! The creator of one randomly-selected post will receive a $100 Visa gift and a poster of choice from ALA Graphics. Three second-place winners will receive their poster of choice from ALA Graphics.
The #GetLibraryCarded promotion begins Thursday, September 1, at noon CT and ends Friday, September 23, at noon CT. All library lovers and librarians are encouraged to participate. The promotion is open to residents of the United States, Washington, D.C., and U.S. Territories. Employees of the American Library Association are not eligible to participate.
A library card opens a world of infinite possibilities through resources and services that give students the tools to succeed in school and beyond. From STEAM (science, technology, engineering, arts and mathematics) programs and family story-times to makerspaces and travel programs, libraries let your imagination sing. Libraries offer free and fun educational resources and activities that bring families and communities together.
"Our library programs serve people of all ages," says Molly Lank-Jones, Library Director. "For younger children, we offer Story-Time on Tuesday at 10 a.m. (sponsored and presented by Northwest Family Connections), 1000 Books Before Kindergarten, and the Summer Reading Program, which helps children learn to read and encourages school readiness. For teens and older students, we provide access to computers and homework help through BadgerLink."
The Weiss Community Library, along with libraries everywhere, continue to adapt and expand services to meet the evolving needs of our community. To sign up for a library card or to learn more about the library's resources and programs, please visit https://weisscommunitylibrary.com/. Especially during these times, please look to the library if your child needs resources for school or needs books to read for enjoyment (which is important for a child's development). We also offer free Wi Fi 24 hours a day, seven days a week, and public Internet stations inside at no cost.
Since 1987, Library Card Sign-up Month has been held each September to mark the beginning of the school year. During the month, the ALA and libraries unite in a national effort to help ensure every child signs up for their own library card. For more information, call the Weiss Community Library at 715-634-2161. Also, be sure to check regularly for additional events online at https://weisscommunitylibrary.com/, on the radio, on our Facebook pages, posters around town, and in the Sawyer County Record.