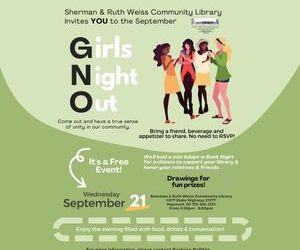 Calling all women...join the library for Girls Night Out this Wed., 9/21/22, from 5:30-8 p.m. We'll share yummy food and beverages (some with corks), have great conversation, hold a mini Adopt-a-Book Night, and hold drawings for cool (winey) prizes. The parking lot...

Sherman & Ruth Weiss
Community Library
P.O. Box 917
10788 State Hwy 22/77
Hayward, WI 54843
phone 715-634-2161
fax 715-634-5257
Hours
Monday 10am-5pm
Tuesday 10am-7pm
Wednesday 10am-5pm
Thursday 10am-5pm
Friday 10am-5pm
Saturday 10am-1pm
Curbside pickup is available during library hours.  Call ahead at 715-634-2161.
The library is closed for the following holidays:
New Year's Day
Memorial Day
Independence Day
Labor Day
Thanksgiving
Christmas Eve Day
Christmas Day
December 26
New Year's Eve Day