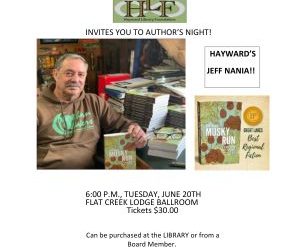 Join us on Tuesday, June 20 @ 6 pm at Flat Creek Lodge Ballroom for HLF - Author's Night Featuring Jeff Nania! Tickets are $30.  Tickets can be purchased at the library or from a HLF Board member BOOKS CAN BE LOCALLY BOUGHT AT HAPPY HOOKER, REDBERY BOOKS, NORDIC...

Sherman & Ruth Weiss
Community Library
P.O. Box 917
10788 State Hwy 22/77
Hayward, WI 54843
phone 715-634-2161
fax 715-634-5257
Hours
Monday 10am-5pm
Tuesday 10am-7pm
Wednesday 10am-5pm
Thursday 10am-5pm
Friday 10am-5pm
Saturday 10am-1pm
Curbside pickup is available during library hours.  Call ahead at 715-634-2161.
Library Closures
New Year's Day
Memorial Day
Independence Day
Labor Day
Thanksgiving
Christmas Eve Day
Christmas Day
December 26
New Year's Eve Day