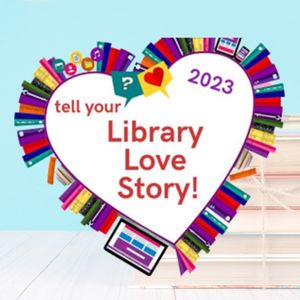 Here's my Library Love Story
(You don't need to sign into Google to complete this form. We're not automatically collecting your email.)
Form: https://docs.google.com/forms/d/e/1FAIpQLScDlV4OtZNfY5K19ZYGXZTPd0DlsXfkj5_62e-rYfHmhRHu_g/viewform
Your library story is powerful.
Your stories help libraries paint a picture of the way library resources, spaces, and safe places support our community. Your stories show how libraries change lives!
Your story can be short or long.
What is a Library Love Story? It can be an answer to any of the following questions:
• How has the library helped you out of a tight spot?
• What do you usually do when you come to the library? Or why did you come in today?
• What is the strangest-sounding problem or question a librarian has helped you resolve?
• What do you look forward to the most about the library?
• What's your favorite reason for coming to the library?
• Or anything else you love about the library!
Thank you for sharing your Library Love Story!