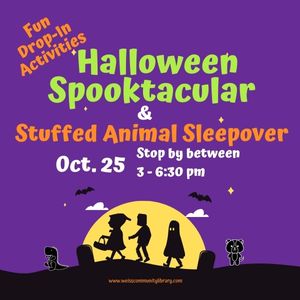 Oct. 25, 2022, Stop by between 3 – 6:30 pm
After you drop off your stuffie, stay a while for some fun activities and games!
Bring your stuffed animal to the library for the night for a stuffed animal sleepover.

When you drop off your stuffie, enjoy some Halloween games & treats.

Pick up your stuffed animal anytime after noon on Oct. 26 to find out what kind of mischief they do when the library is closed. We'll post pictures online, on the library's Facebook page.