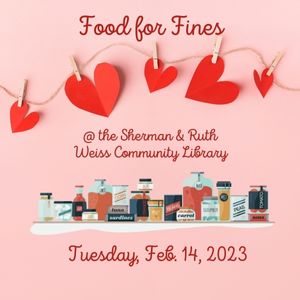 The Sherman & Ruth Weiss Community Library will clear fines from our library only – for patrons who stop by our library in person only with a non-perishable food donation from
10 am – 7 pm on Feb. 14, 2023.
No fines will be cleared by phone or email, and fines from other libraries cannot be deleted.
Stop by, get your fines cleared, and enjoy a sweet treat on Valentine's Day!
All food items will be donated to the Hayward Community Food Shelf. For more information, call the library @715-634-2161.